We talked to Patty Deitsch from Precision Pool Renovations about her favorite pool remodel along with remodeling tips for homeowners. Here's what we learned:
1.) If you could pick just one, what is your favorite pool remodel?
This project, featuring PebbleSheen Blue Granite, won the Gold Award in the Residential Pool Restoration category at the 2019 PHTA (Pool & Hot Tub Alliance) Georgia Chapter Southeast Design Awards. Along with PebbleSheen, this project includes new tile, coping, a diving board and equipment. Additionally, a tanning ledge, bench seating and a raised stone wall with a sheer descent waterfall and PebbleTec fire bowls were added.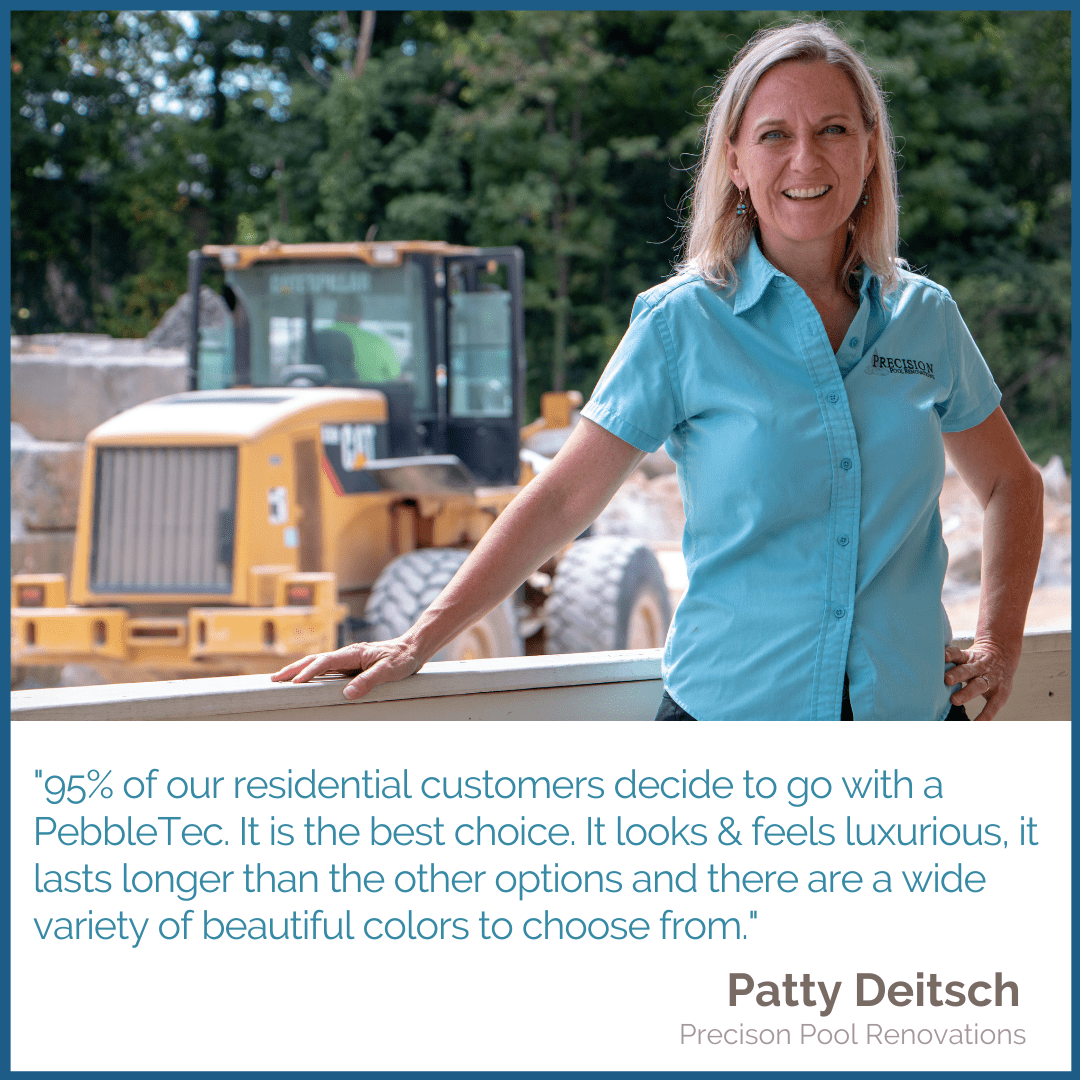 2.) What are some tips you would give to homeowners who are looking to begin a pool remodel project?
Look for holes in the plaster or areas where the concrete shell is showing through. Evaluate the amount of staining and if calcium efflorescence is forming on the surface. Feel if the surface has become rough. Look for missing, cracked, or chipped tiles and deteriorated grout. Tap on the tile and coping to listen for a hollow sound which is a clue to determine if these materials need to be replaced. All of these are signs that you are due for a pool remodel.
If you're looking for a beautiful and durable surface finish, go with PebbleTec.
When choosing a color, keep in mind that pool water color appears differently depending on the time of day, season of the year, and the amount of sun and shade. Search on Houzz and Pinterest to see photos of pools when deciding on a color.
Trust your pool professional to offer suggestions for a finish color and complementary waterline tile that will achieve the look you want. Interior decorators generally do not have experience in this area since you are dealing with how the sample will appear underwater.
3.) Why does Precision Pool Renovations prefer to have PebbleTec finishes installed on their pool renovations?
95% of our residential customers decide to go with a PebbleTec interior finish. It is the best choice. It looks & feels luxurious, it lasts longer than the other options, and there is a wide variety of beautiful colors to choose from.
Potential clients often ask for the PebbleTec brand. There are knock-off aggregate brands out there, but PebbleTec uses the finest aggregates. Also, is only applied by licensed applicators and that makes all the difference! Aggregate finishes need to be applied correctly to avoid being under or over exposed.
PebbleTec selects and trains its licensed applicators, so we have confidence that the installation is going to be done correctly and professionally. It is an interesting process to watch and runs like clockwork.